'This is the Diction when we first brought her, she was and in need of some tlc, this is what she will get over the next few years, our little ship is just waiting to go her new home in Plymouth, where we will begin the major work.


This is diction when we first brought her Having made the final payment for Diction it was time to get her moved to her new location in Plymouth.
Firstly however we had to get her off the mud where she had been for the last few years.
On Sunday evening the 4th may 2008 myself and a friend arrived at the Diction
we set to sorting stores and making Diction ready for moving.
On the evening of Monday the 5th we started the engine and at the point of high water we attempted to drive her off the mud
but like attempts made by previous owner we failed, however that evening we half filled the fore ward ballast tank with river water, about 8 tonnes
this had the effect of forcing the boats bow lower into the water which would have a counter lever effect and raise her stern, which would enable her to float with less water.
Next morning Tues the 6th at 05.30 hrs we again started the main engine and just after 06.00 I put Diction into gear,and straight away Diction started to move off the mud and into mid channel, she was quite hard to steer as the steering hadn't been used for such a long time, anyway we managed to get through a narrow flood lock and put Diction alongside Lighteridge quay ready for loading further stores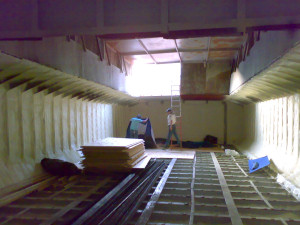 and wait the arrival of the rest of the crew, two of my ship mates. One is a Navigating Officer the other is a first class Able Seamen. Diction is a large vessel and needs a minimum of 3 crew
but we also had my mate so that made four in total.
\That evening we had to practice our ship handling skills as the port had one ship arriving and one moving berth so we would be in the way and had to move off the quay to keep clear of the ship maneuvers. This helped free off the steering nicely ready for next morning.
Wednesday 7th may we let go from Lighteridge quay at 07.30 and made our way down the river Fal running about half speed,  09.20 we cleared Falmouth and set course for Plymouth a distance of 35 nautical miles the power was increased slightly but still only just above half power.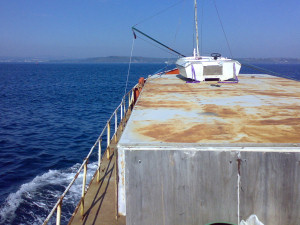 Underway to Plymouth.
The weather was fine, slight sea with good visibility and the odd sea breeze.
We arrived at Plymouth Sound at 16.00 well ahead of schedule, so I arranged for us to to tie up to a buoy for a couple of hours till just before high water which is the only time we could get onto our new berth.
At 19.00 hrs we slipped the buoy and the owner of the boatyard came out in a large inflatable boat to escort us through the channel and onto our berth. The entrance was very narrow, to the degree that onlookers where telling us to breath in and were clapping because we never touched anything, (a minor miracle in itself).
After having assistance to turn the very tight turns we finally got moored up and secured alongside.
we all then had a good hot shower and alighted to the local pub for well earned refreshments.
Thursday 8th two crew members went off home and I went to pick up the car and trailer from Truro
whilst my mate stayed on board to secure the vessel, that evening with Diction all secure we went off home where I had to start landscaping my garden ready to sell, once this is done I will return to the Diction and commence the refit and well deserved T.L.C. she will need to become our home.
view films on you tube here.
part 1 getting the feel whilst waiting for a ship to berth.
part 2 the cruise